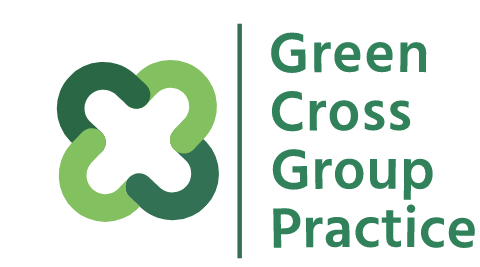 Green Cross Group Practice
63 Palgrave road, S5 8GS
Branch Surgery: 28 Dunninc Road Surgery, S5 0AE
Current time is 22:59 - Sorry, we're currently closed. Please call NHS 111

Telephone: 0114 234 4729
Out of Hours: 111
Latest News (click title to open):
Clinics and Services
For an appointment please call at reception or telephone 0114 2344729 between 8.30am and 6.00 p.m.
Ante Natal Clinic
When you become pregnant you will be given a "booking in appointment" with the midwife. These are based in the building next to the surgery. You will be seen regularly throughout your pregnancy by the midwife.
Well Baby Clinic
This clinic is run by the doctor and practice nurse. Please register your baby at the Practice as soon as possible after birth. Once done, when your child is 4 weeks old, please contact the surgery to book their 8 week medical. These are carried out with the Doctor and immunisations given by the Practice Nurse. The Health Visitor gives child health advice and regular development checks.
Immunisations/Vaccinations
Annual flu vaccinations for patients over 65 years plus "at risk" people with diabetes, heart and lung problems etc. A single injection of Pneumovax is given where appropriate.
Travel Clinic
The surgery offers travel advice and vaccinations to all our registered patients travelling abroad. To see if require any vaccinations, please collect a travel form from Reception. Your travel form may take up to a week to process, so we kindly ask you to do not leave it until the last minute to contact us as we do not offer emergency appointments for this service. Travel vaccination schedules can be complicated, therefore you should allow at least 6 weeks prior to travelling to arrange any necessary vaccinations. If you are travelling in under 6 weeks' time, we will unfortunately not be able to administer any of the necessary vaccines.
Please note, if you do require urgent travel advice and vaccinations please contact the Travel Clinic at the Royal Hallamshire Hospital on 0114 271 2608 for advice.
Chiropody
This is free to patients over 65 years of age or who are diabetic. This is a non-attached clinic that is hosted here at the surgery. Please consult your GP for a referral.
Physiotherapy
We have a new Physiotherapist assessment service starting in January 2018.

We have bookable 20 minute slots with an expert Physiotherapist who can assess strain, sprain or just a random new concern. Simply contact reception or ask at the morning drop in service and an appointment can be given. If you have booked to see a GP about these issues you can change the appointment and chose this service instead. This is not for a full package of Physiotherapy treatment. If a full course of Physiotherapy is needed, a normal referral to the Physiotherapy treatment clinics can be made.
Coronary Prevention Clinic
This is run by the Doctors and the Practice Nurses. Patients are referred by the Doctor. They will have complicated problems including smoking, overweight, angina, blood pressure, high lipid levels, positive family history etc. Successful attendance at this clinic will lead to a persons health improving and a longer life.
Smoking Cessation
The Doctors and Nurses give advice and support to patients trying to give up smoking. Details of the Sheffield Smoking Cessation Service are also available from Reception.
IAPT (Improving Access to Psychological Therapies)
This is a non-attached clinic that is hosted here at the susgery who are available to help and advise with problems including anxiety, stress, tension, depression, bereavement and phobias. A referral can be made after consultation with one of the doctors.
Asthma/COPD Clinic
This clinic is run by the Practice Nurses. We see patients with both asthma and COPD to make sure that they are on the best treatment for them, that they understand how to take their treatment and what to do if their condition changes.
Well Woman Clinic
Our practice nurses routinely take cervical smears. However, ladies may request an appointment with a female doctor if they wish. Drs Williams, Cormack and Turner are also available for contraception and family planning, breast examinations, blood pressure checks, HRT and menopausal problems. Dr Williams is also runs a contraceptive LARC clinic. Women interested in this should see Dr Williams for more details.
Anticoagulation Clinic
This is run by our HCA Nicola Cawthorne with GP oversight.
Diabetic Clinic
This is run by our nursing team. It is for the long term surveillance of people with diabetes, helping with any aspect of their medical care and keeping their condition stable.
Downloads
Statement of Purpose